Seeker x Retriever, Building a Fashion Brand to Find Your Tribe with Nan and Carl
Nan and Carl are a married couple and they are the founders of the brand Seeker Retriever, a brand that brings the conversation of ethical and sustainable fashion to the very next level.
Nan and Carl will tell us the story of how their brand was born from the love for vintage clothing and how a personal exploration has led them to a community of weavers in the mountains, in the Northern parts of Thailand
They will also explain how the human aspect is at the core of their brand value and how it is translated in terms of production and in the way they interact with their own customers.
We will also learn why they think that their brand is not for everyone and why that's perfectly fine, as they are more focused on building connections and finding their tribe, the tribe of people that share their same values.
We also covered many other topics and I had so much fun in this conversation.
Their story is again very inspiring because this is another story of how a small and independent brand, in their very own way, is changing the conversation of the fashion business.
EPISODE NOTES
ON Nan's  (2:54)  
ON Carl's (3:24)  
ON who Seeker x Retriever is for (3:58)  
ON Seeker x Retriever brand philosophy (4:54)  
ON finding the weaving community in Chaeson Lampang Province (6:20)  
ON the first encounter with the weavers (8:27)  
ON the meaning of Seeker x Retriever (11:06)  
ON working with the tailor (12:46)  
ON working with the weavers (15:05)
ON why they also offer made-to-order (17:01)
ON  human collaboration as a core value of Seeker x Retriever (18:56)  
ON waiting in today's fast-paced world (22:03)  
ON explaining the brand philosophy to sell to customers (23:10)  
ON scaling up or down? (27:03)  
ON the definition of success (29:06)  
ON not working with too many stockists and on finding your tribe  (32:11)  
ON the joys of working as a married couple (33:27)  
ON not having experience in fashion is an advantage in the current fashion system (35:15)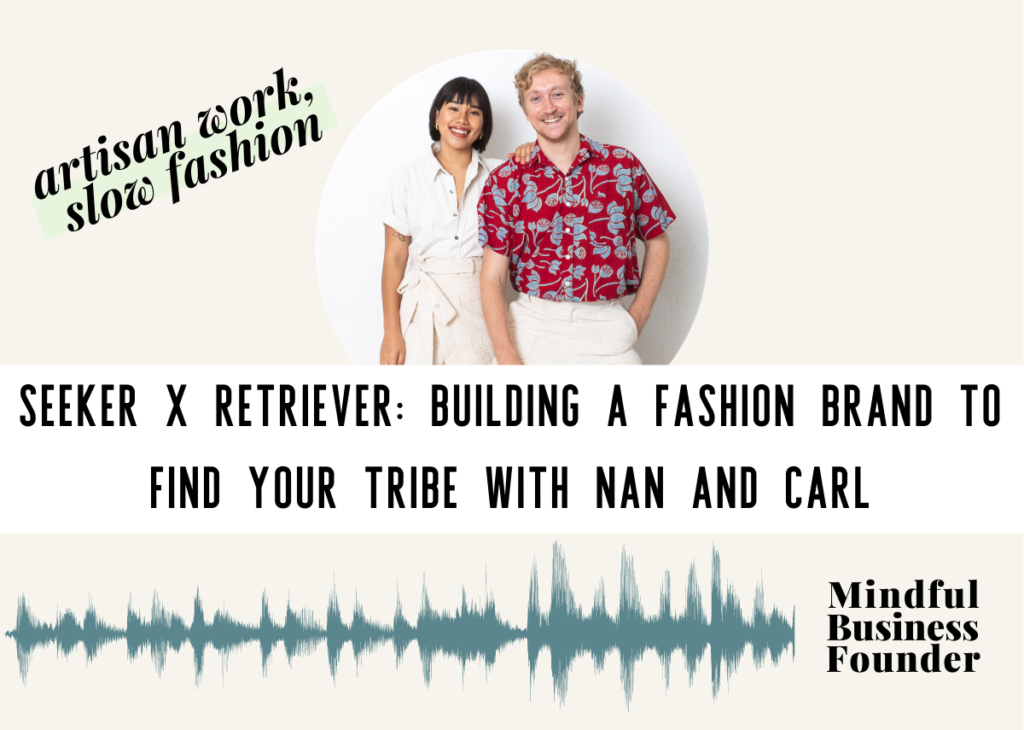 ===========
CONNECT WITH Nan and Carl
SEEKER x RETRIEVER: https://www.seekerxretriever.com/
===========
WHERE ARE THE ARTISANS THAT MAKE THE CLOTHES:
CHAE SON NATIONAL PARK (LAMPANG) in THAILAND

BAGRU VILLAGE RAJASTHAN in INDIA
===========
Music credits: Mister Sunny Face by Wayne Jones / Blue Skies by Silent Partner / Happy Ukulele by Scott Holmes